The pie floater is an Australian dish especially associated with Adelaide, the capital city of the state of South Australia. It is essentially a meat pie served in pea soup.
For a typical pie floater, make a thick pea soup made from Blue boiler peas. In this soup, an Australian-style meat pie is placed. The meat pie will usually sit in the soup, but some chefs serve submerged meat-pies and upside down submerged meat-pies instead.
In 2003, the pie floater was recognized as a South Australian Heritage Icon by the National Trust of South Australia.
Examples of celebrities known to be pie floater aficionados:
Angus Young from the Australian rock band AC/DC
Chef Anthony Bourdain
Formula One champion Nigel Mansell
Cricketer Shane Warne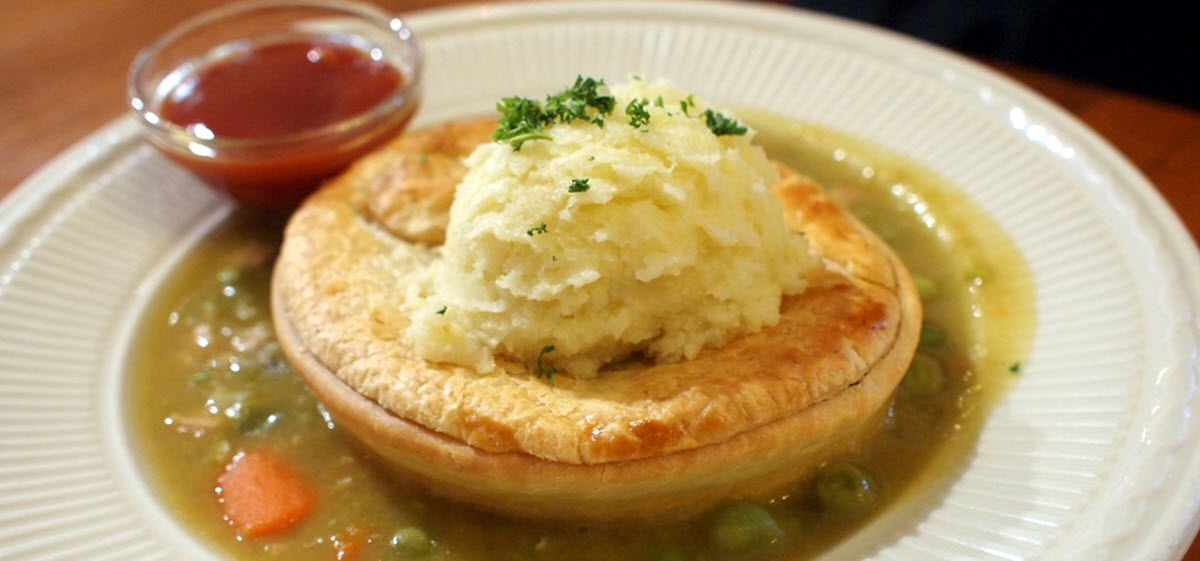 Pie floater – an Adelaide street food with a long history
When pie floaters became popular in Adelaide, it wasn't as a home cooked meal – it was as a type of street food that working people on their mid-day break or on their way home at the end of the day could buy from a street cart to quickly satisfy their hunger without breaking the bank.
In the Adelaide metropolitan area, pie carts have been present since the 1870s. Back in those days, they were often horse-drawn. One famous Adelaide pie cart was the Nordwood one, located near Norwood Town Hall.
By the 1880s, there were over a dozen pie-carts in King William Street and North Terrace. After the turn of the century, the number of pie-carts began to go down, with nine remaining in 1915.
In 1958, only two were still in operation here: Balfour's pie-cart on North Terrace outside the railway station, and Cowley's in Victoria Square outside the G.P.O.
Make your own pie floater
For this recipe, you will need ready-made meat-pies. You can either purchase small meat-pies in the supermarket (if available) or use our meat-pie recipe to make your own small meat-pies. Please note that our meat-pie recipe is for 16 meat-pies, while you only need four for this pie floater recipe.
Ingredients
500 grams blue boiler peas
Water for boiling the peas
10 grams salt
10 grams sodium bicarbonate (baking powder)
White pepper, to taste
4 meat-pies
Instructions
Bring the water to a boil in large pot.
Add the peas to the boiling water.
Take off the heat and leave to soak for at least 12 hours.
Drain and rinse the peas.
In the large pot, pour fresh water over the peas, cover with a lid and bring to a boil. Lower the heat to a simmer.
Stir in salt, sodium bicarbonate and pepper.
Let the peas simmer. When the skins float to the top, skim them and discard them.
Keep simmering until the consistency is thick and mushy.
Divide the pea soup into four deep dishes. Place a meat-pie on top of the soup in each dish. Serve immediately.
If you want to, you can heat up the meat-pie in the oven or microwave before putting it into the soup.
Tips!
Many Australians like to garnish their pie floater with tomato sauce, mint sauce, Worcestershire sauce or malt vinegar.