During World War I, wives and women's groups back home would bake Anzac biscuits and send to deployed soldiers abroad. Even more commonly, the biscuits would be served at galas and other public events back home, arranged to raise money for the war effort. Sometimes, Anzac biscuits would be sold or auctioned out to bring funds to the war chest.
The main ingredients in Anzac biscuits are rolled oats, wheat flour, desiccated coconut, sugar, butter, and golden syrup. Unlike many other biscuits, Anzac biscuits contain no eggs. That is because there was a shortage of eggs in Australia and New Zealand during the war, as many poultry farmers had joined the war effort.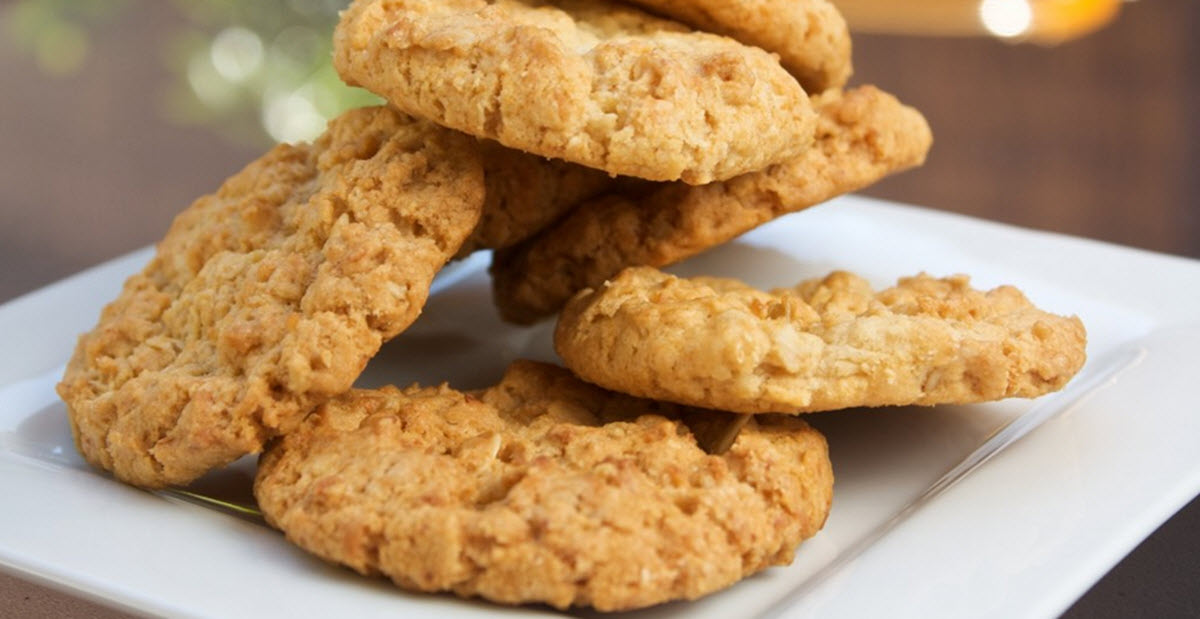 The name
ANZAC is an acronym for Australian and New Zealand Army Corps.
History
One of the earliest mentionings of Anzac biscuits in text that we know of is from 1917, when the biscuits appear in the War Chest Cookery Book, published in Sydney, Australia. However, these biscuits were not at all like the Anzac biscuits that we know today. Interestingly, the same publication actually included a recipe for another biscuit called Rolled Oats biscuit that is much more similar to today's Anzac biscuits.
In the 9th edition of St Andrew's Cookery Book, published in Dunedin, New Zealand in 1921, we find a recipe for Anzac Crispies. These biscuits were very similar to today's Anzac biscuits. In subsequent editions of the book, the name of these biscuits has been changed from Anzac Crispies to Anzac Biscuits. Soon, cookery books published in Australia did the same.
Recipe
Ingredients
Butter for greasing
1 cup plain wheat flour
1 cup rolled oats
1 cup desiccated coconut
1 cup brown sugar
½ cup butter
2 tablespoons golden syrup
2 tablespoons boiling water
1 teaspoon sodium bicarbonate
Instructions
Preheat the oven to 180 degrees C.
Grease a tin with the butter.
Sift the flour into a bowl.
Combine the flour with oats, coconut and sugar. Set aside.
Place a pot over low heat and melt the butter together with the golden syrup. Stir gently. Remove from heat.
Boil some water in another pot (or in a water heater). Pour 2 tablespoons of the boiling water into a bowl and stir in the sodium bicarbonate. Add this mixture to the butter and syrup mix.
Pour the butter batter into the bowl where you have the dry ingredients. Mix well.
Use a spoon to place dollops of biscuit batter onto the greased tin. Each dollop should be approximately the size of a walnut shell.The biscuits will flatten out when they are in the oven, so don't put them too close together on the tin.
Bake in the oven for 15-20 minutes.
Take out the biscuits from the oven. Transfer from tin to a wire rack. Leave to cool down before you pack the biscuits in an airtight container.